A
A measure of PC gaming performance that includes frame drops.
---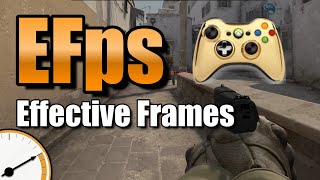 Average Fps don't tell the whole story. High average Fps can be accompanied by stuttering which results in a poor overall gaming experience. Effective Fps (EFps) measure gaming experience using both average Fps and frame drops. Frame drops are quantified using the following four statistics:
0.1% and 1% Lows (Avg|Max)
To calculate the 0.1% low all the frames in a sample are sorted from slowest to fastest. For a 60 second sample, the frames in the first 0.1%: 60s * 0.1% = 60s/1000 = 0.06s are used to determine the 0.1% low. The average and maximum Fps of those (slowest) frames are the Avg|Max 0.1% lows. A similar calculation is used for the Avg and Max 1% lows.
(download example calc spreadsheet )
EFps vs Fps
For most games
EFps are similar to average Fps (e.g. GTAV)
. Where frame delivery is very consistent
EFps are higher than average Fps (e.g. Overwatch)
. Where frames are relatively inconsistent
EFps are lower than average Fps (e.g. CSGO)
. EFps incorporate and improve upon average Fps as a measure of real world playability.
Bottlenecks
PC components are similar to links in a chain: weak components bottleneck the whole system. For example:
an AMD Ryzen 3700X bottlenecks an Nvidia 2070 Super. The 3700X costs 40% more money for 11% less performance
. The lost performance is similar to downgrading from a
2070S to a 2060S
. Publishing EFps data puts UserBenchmark in conflict with the marketing from billion dollar corporations, but it also helps our users to build faster PCs by dodging marketing traps.
Users can verify EFps figures with Afterburner
EFps Benchmarks